My Story
Hello there! My name is Janice Daniels and I am a 21-year-old Journalism major from northern California. Growing up, I had parents who used food to show me and my siblings love and, as a result, food became a source of comfort for me and I ended up suffering with obesity throughout most of my life. The 3rd grade is when I started gaining a lot of weight and it all went downhill from there. In the 5th grade I weighed 155 pounds, in the 6th grade I weighed 180 pounds and in the 8th grade I weighed 225 pounds. By Sophomore year I had gotten up to 240 pounds, with my highest weight ever being around 250.
This is me when I was 17-years-old. 
I look back at my journals from elementary school, middle school and high school and all I see are complaints and desires of losing weight. I wanted so badly to feel normal and to be treated normally, but never could because I was not taught, as a child, how to eat healthily and moderately. I never knew what it was like to have a boyfriend or to have boys like me and, for the first time in my life, I am finally learning the ropes of this boy-girl, relationship-type stuff due to my weight loss and new-found blanket of confidence. 
After high school something clicked in my mind, and I realized I didn't want to live the rest of my life being miserable in my own skin. Everyday of my junior and senior years, I work Spanx under my clothing to make myself look slimmer. I have never told anyone this, but it's about time I get it out there. At the time, I saw nothing wrong with wearing Spanx under my clothes but, looking back at it, I see something seriously wrong with that, especially since I depended on them everyday of my life for two years. Sometimes I would tear up my room looking for my Spanx, because I did not want to leave the house without them on. The last time this happened is when I realized there was something truly wrong, and I thought: WHAT AM I DOING? Am I really going to depend on Spanx for the rest of my life?! I had to make a change, and I used Brett Dennen's lyrics "Be the One Who Loves You the Most" as my motivator to initiate creating a healthy lifestyle for myself.
I started by cutting out fast food, doing lots of research, looking up recipes and watching YouTube videos of people who were also trying to better their own lives such as Antishay. I started this journey at the beginning of 2010 and, since then, have lost nearly 90 pounds due to consistent healthful eating, exercise and determination. When I first started eating healthy I used to get embarrassed by what my friends might think. Now that I look back on it, why should we ever be embarrassed about wanting to be healthy?!
At first it's scary and you feel ashamed to let people know that you seek change and don't like the life you lead. The truth is, once you let the world know of your aspirations (being healthier, losing weight, etc.) you will most likely succeed. I used to wear a facade where I acted as if I was proud to be plus-sized. "I am Fabulous And Thick, baby!" Yeah… I was lying. I started this journey and as hard as it was to be judged and questioned by those around me, I knew I just had to do it. I made it harder for myself by letting people think I was happy with myself. My friends saw me as this strong, plus-sized girl who loved herself and wouldn't change a thing. Deep down, though, I did want to change. I was just scared to disappoint people and their perception of me and, most importantly, I was scared to let them see a weakness in me. I lied to myself and everyone around me about who I was, and now, for the first time in my life, I feel that I can finally be honest because of how far gone the old Janice is. Though it was hard at first to let my friends know I didn't want to eat shit, I got through it, and now it's not a big deal at all. It's still new to them since this new lifestyle is fairly new to me, but as long as I continue with it, people will only become more accustomed to my habits and forget about the person that I used to be.
Since started my journey of health, I have learned a lot about food and have realized that is where my passion lies. I want to help people, like myself, who have struggled with weight and health. I want to encourage, inspire and motivate others to be the best people they can possibly be and help people to live up to their healthiest potentials. I have seen and experienced, with my own eyes, what food can do to a life, whether it be good or bad. My goal here is to encourage others to be healthy in hopes that they will pass it along, ultimately creating a big cycle of health, love and confidence among those we surround ourselves with.
It is my friends, experiences and other support systems which encouraged me to keep going, to keep cooking and to continue to embrace the beauty of health. I have gone from a fast food, Hershey kiss junkie to a healthy, aspiring vegan chef in just under two years, and I can not believe it. I have experienced great things these past few years - surely things I would not have experienced at 240 pounds - and I am thankful. My life has changed for the better and, although I still struggle with comfort food brings me, I know I will continue to travel this road of health with a passion for nutrition and good food.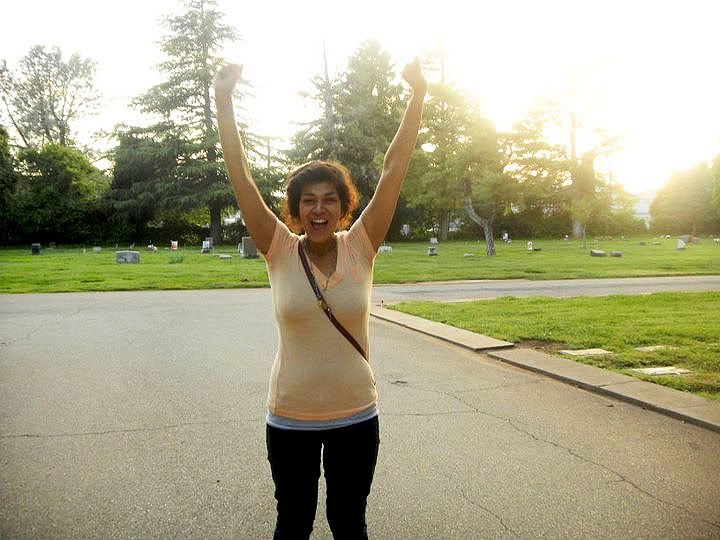 If you want to change your life then get off your butt and do it, and let the world know! Also remember it doesn't happen over night. It takes patience and a motivated mind - with those two things, you can conquer the world! 
"The single element over which you have the most control is the food you eat."